Patrick Guntensperger
Not long ago I was living in Jakarta and frequently had to travel to Singapore on routine and business matters. The two cities, although not far apart geographically, could hardly be more different. Forests have been levelled to accommodate the published treatises on the differences between Singaporean and Jakartan traffic, signage,
law enforcement, politics, cuisine, culture, economics, education, infrastructure, domestic and foreign policies, and character; I only want to address one minor issue: the ease of walking around in these two great southeast Asian cities. And only because it relates to the real subject at hand.
In Jakarta I had a car and driver. That's neither unusual nor arrogant conspicuous consumption in Jakarta. Virtually everyone above the poverty level, or at least virtually everyone who owns a car, also employs a driver. As a consultant, a political analyst for a number of publications, and a teacher of writing and journalism at a number of universities, I had appointments all over the city at odd hours and needed both.
Jakarta, of course, is legendary for its traffic. By some estimates a million vehicles a year are introduced to the steadily deteriorating streets of Indonesia's capital and very little is being done to improve the crumbling roads. Combine that with an endemic utter disregard for traffic regulations, signs, and lights, along with an absolute dearth of courtesy on the roads, and you have a recipe for near-permanent gridlock.
Don't even think about public transportation.
Unfortunately, walking to your destination is simply not an option in most cases. In those areas where there were supposed to be sidewalks, the pedestrian walkways are occupied by kiosks selling noodles, cigarettes, or pre-paid phone cards. Between them are beggars with their sarongs spread, upon which their babies sprawl looking properly emaciated. In between are breaks in the ancient stones that once formed the pedestrian surface, exposing sewers some two meters below, with reinforcing rods projecting from the shafts through which the unwary would fall.
Anyone foolhardy enough to walk in downtown Jakarta is thus forced to walk on the streets where it is always open season on pedestrians. The only upside is that traffic is so frequently at a dead standstill, that doing one's broken-field running through the traffic is relatively safe most times; until of course a space opens up and several motorist scramble for it with utter disregard for the pedestrian running for his life. Or one of the motorcyclists (who outnumber the car drivers) decides to open yet another lane of traffic, perhaps across the lobby of a building or through and open door to a kiosk.
The result, of course, is that you tend to spend a great deal of time in your car. Time that otherwise would be spent strolling around and taking in the sights of what is arguably the most exotic city in the world is occupied by huddling in the back seat of a car, working on a laptop or reading a newspaper.
For me, this was the single most significant drawback to life in Jakarta. I have always enjoyed walking – particularly in an unfamiliar city – with a laptop or a notebook until something I want to say has achieved some cohesion and has coalesced into something that might be worth publishing. Then I'll find a suitable bar, cafe, saloon, or lounge where I'll find a corner where I can plug in and do my work. Somehow driving around just doesn't work the same way. The One Tree Bar and The Front Page and Faces in Jakarta worked well. All knew me, all knew where I liked to sit and what I'd like to drink; but somehow, driving there just wasn't the same as walking.
But then there's Singapore.
This city-state at the southern tip of the Malay Peninsula, almost precisely on the equator, is only about a ninety minute flight from Jakarta. Apart from the climate, the two places couldn't be more dissimilar. Singapore always reminds me of a science-fiction city. It's planned, orderly, logical, spotless, regulated; it is – particularly if you step off the plane from a developing country – astonishingly wealthy, with cutting-edge technology employed by everybody in government, personal life, and business. The streets are clean and the sidewalks are broad and shaded; walking in Singapore is as pleasant and expected as it is in Paris. There are parks and green spaces, benches under shade trees to escape the tropical sun and well-thought-out cafes where one can sit and watch the city life, have a drink and even plug in a laptop,
But it's the pedestrian-friendly aspect of Singapore that inspired the title of this article. While my life in Jakarta was essentially sedentary, with chauffeur-driven transportation everywhere, my monthly or more frequent trips to Singapore were so conducive to walking about that I eventually overdid it.
All my life I had been fairly active; from my childhood hockey through early adulthood movie stunt work, and my rather scattered later careers, I have always moved around quite a bit. So when I had a few hours to spare in Singapore, I would always walk; sometimes from Bugis Village to my hotel off Orchard Road; or from my hotel down to Chinatown or Raffles Hotel for an exorbitantly priced drink at the Long Bar where the Singapore Sling was invented. By the end of a glorious day of strolling around, I would begin to notice an ache in my left knee. Naturally I put it down to age and to the fact that I had broken that knee on more than one occasion during my stunt career.
One day after several hours of perambulatory exploration of Singapore, I noticed that not only was my knee giving me real grief, but that I had developed a limp like Walter Brennan's in Rio Bravo. From then on my left knee was a constant source of irritation. Some days I would scarcely notice it. Other times I would wake up during the night with the joint burning like fire. But it developed that by the end of each day it was stiff and aching; it would take a few minutes every morning to loosen it up, and eventually I needed to carry a cane with me, because it had acquired a tendency to give way without warning,
Osteoarthritis, I was told. Degenerative joint disease. It turns out that as the result of some youthful trauma, probably the time I split the tibial plateau, I had developed this problem. It would not go away and it would not improve. And my life was seriously curtailed. The last thing I needed was to have my physical activities restricted to any serious degree. I had a career that required physical activity…I couldn't chase down stories –particularly environmental ones – if I couldn't get out into the field; I had a young wife; I had a new son – who would teach him football and hockey? I couldn't even travel like I used to; my leg would lock up even in a first-class seat after a few hours, and some of the more esoteric modes of travel to which I was often relegated were simply out of the question.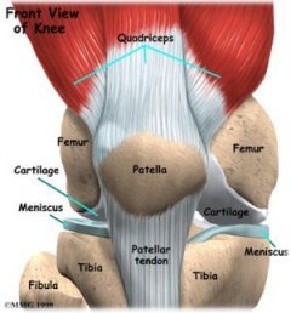 I knew I was soon to return to Canada to care for my parents who were aged and not very healthy. The only problem was the bureaucratic nightmare in getting my son and wife out of Indonesia and on citizenship track in Canada. We were ready to go for almost a year and simply waiting for visas; our collection of household goods was packed and in storage, waiting to be shipped, and we were camped out in the house waiting for the documents. After having met one more bureaucratic roadblock, I had to go…my parents' health was deteriorating and they needed me. I consequently left my wife and child to fight the bureaucrats, while I flew to Canada to care for my parents and to re-establish residency so I could once again qualify for Canadian Health Insurance and have my knee and another spinal problem looked at properly. My wife and child were to stay and cut through the red tape while I took care of business in Canada.
While Yolanda and JJ languished in Indonesia, I started to put in the required time in British Columbia to re-establish permanent residency. I made sure that my parents' lives were on an even keel; I checked with their doctors and lawyer and made sure I was up to date on their physical and financial condition; I took on overseeing their medical conditions, and ensured that I was able to understand and help guide their financial situation. I made sure that they were eating well, taking their medications, getting their exercise, and that the house and yard were taken care of.
And I waited until I was eligible once again for Canadian socialised medicine. In the meantime I had new x-rays taken, so the orthopaedic surgeon would have up-to-date pictures when he examined me. Eventually the day came when I saw the specialist, an orthopaedic surgeon. He knew within 5 minutes that there wasn't any hope for recovery short of replacing the defective joint with a metal prosthetic.
I'm now on the waiting list. Soon I'm going to have my old knee removed (I wonder if I can keep it in a jar), and a new, bionic joint installed. So, for the time being I'm hobbling around with a cane, parking in handicap-designated spots, and preparing once again to go under the knife. The one thing I keep wondering about though, is whether I ought to get both knees replaced and have them make me a couple of inches taller while they're at it.
…enditem…